Number 33 was the 2014 Mo' Cowbell Marathon in St. Charles, Missouri. I finished in 3:39:14, 87th of 517 overall, 69th of 260 among men and 5 of 24 in my age group.
The break between number 32 and 33 was 1 year, 5 months and 11 days. During this time, I was hopeful that the left ankle pain described in the number 32 story would go away. I went to a specialist, who probed, x-rayed and examined. Finding nothing the only solution was that the pain was not there. Phyical therapy was recommended. Going back to cushioned shoes has helped, but the pain is still there, presumably forever. I rowed and road bikes a lot more.
Finally, a few months ago, the time came to resume this project while I am still walking. I targeted the Bismark marathon on September 19 and began to train for it. Almost exactly 10 years ago, I broke my left foot in a scooter accident. Rachael and I had trained for the Maui Marathon on September 19, 2004 but with my foot in a cast I talked her out of taking us all to Hawaii. Instead, she ran the Lewis and Clark Marathon on September 19, 2004 on the Katy Trail in St. Charles, Missouri.
A decade later, September 19 remains a cursed marathon day. Happily, work rather than injury precluded travel to Bismark that weekend. Not wanting to waste our training, Rachael returned and I went for the first time to St. Charles.
While we no doubt burned some calories running, we enjoyed an otherwise extra-ordinarily indulgent weekend. The first Friday of the month is wine dinner day at Whittemore House, the Washington University's faculty club. Chile was the theme country this month, crab and avocado, beef and tres leches were three of the five courses. Plus there was wine. Saturday we went to St. Charles to get our numbers and had tapas at Bella Vino on Main Street. Bella Vino has had the inspired notion that bacon wrapped dates should be stuffed with chorizo. Observe us enjoying the house fare below.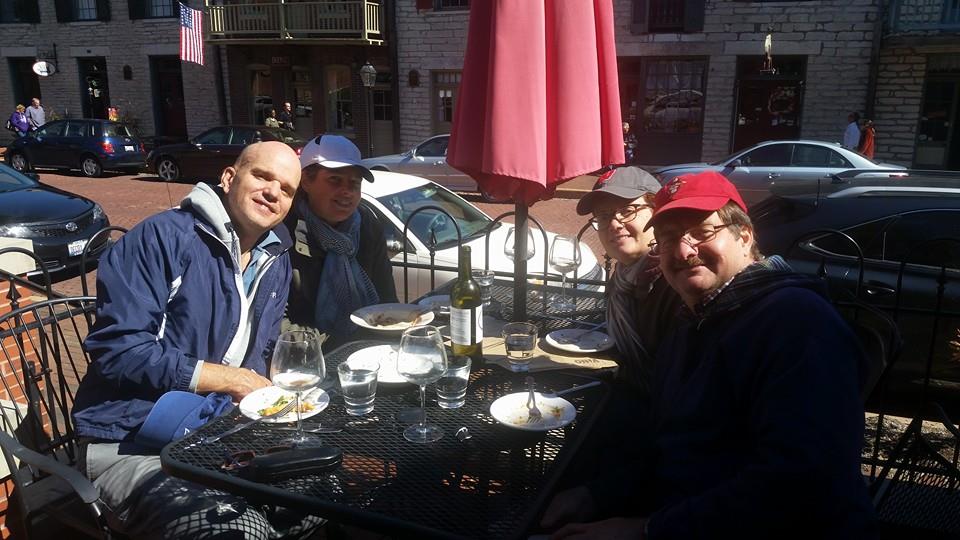 As seen in the photo, main street St. Charles is incredibly quaint. The town is, by US standards, an ancient river town and was the first state capital. It's an unusual corner of St. Louis.
Saturday night we continued our culinary excesses with steak and Yorkshire pudding, not the most recommended premarathon fare but life is short. We celebrated Rachael's birthday a early with warm tarts, as shown below.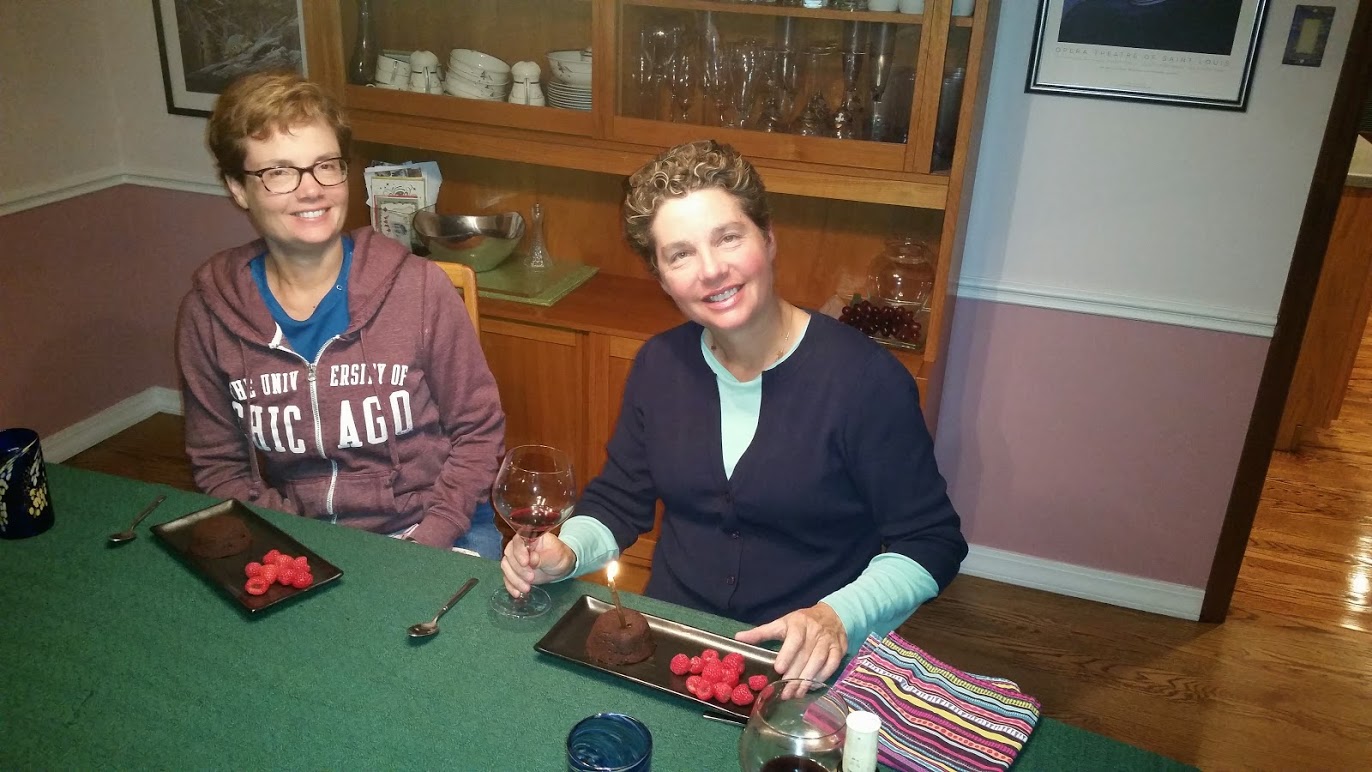 Sunday morning was cool and crisp. Cindy dropped us near the start with 20 minutes to go until race time. Here I am with the huddled masses, trying to stay warm.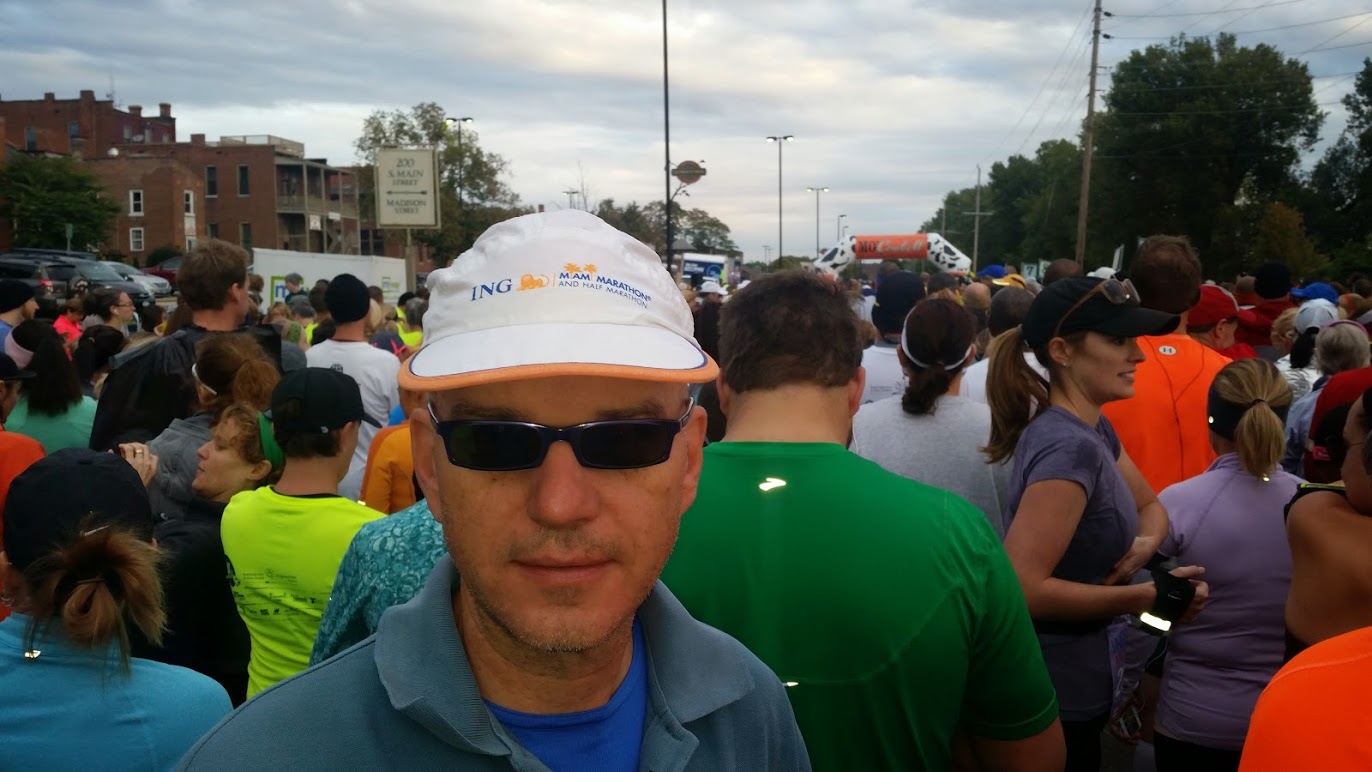 As to the race itself, there was not much to it. My goal was simply to get back into the project after the frustration of trying to go fast and minimalist. 3 hours is not in the cards, 4 is not that hard to maintain. I did a 20 mile training run in late August, but otherwise had not run terribly long in training, which was on the backburner in September. With this in mind the run went pretty well. The first half has the full marathon and the half together and wanders through St. Charles and out into the country side. Miles 5 through 8 wander through a planned community, New Town, which is fun to see. I ran a comfortable 7:40-7:50. The second half is a straight out and back on the Katy Trail rail-to-trail track, which is packed cinder. My quads and hamstrings came into a fair bit of pain from mile 21 on, the 25th mile I went quite slow (maybe 13 min pace) since there was no need to force the pain, but I ran hard again for the last mile. Recovery has been typical. I had 5-6 gel packs during the run, which didn't seem to help much. Here I am coming into the finish: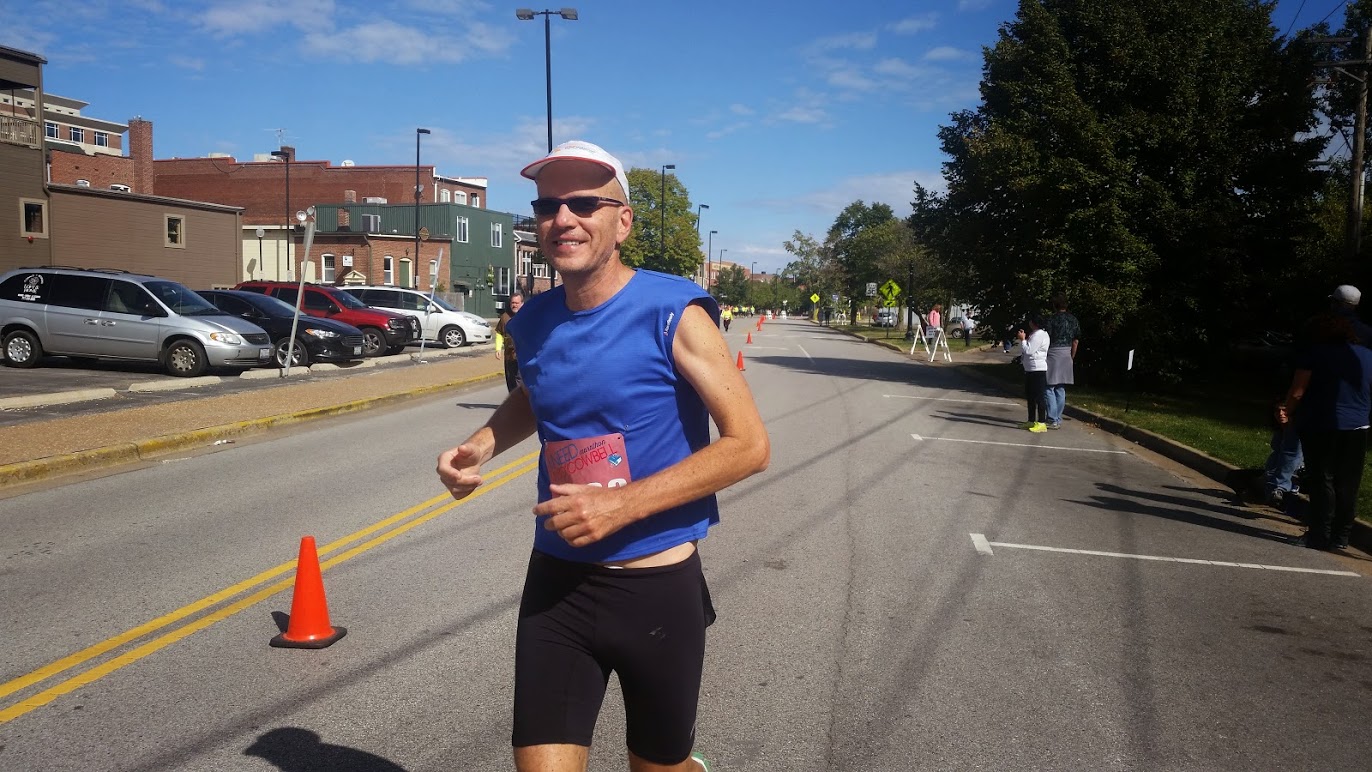 My weight is up a bit from last time, maybe bringing it down will get my speed up a bit. Rachael did very well in the half, finishing just under 2:05. Here we are together at the end: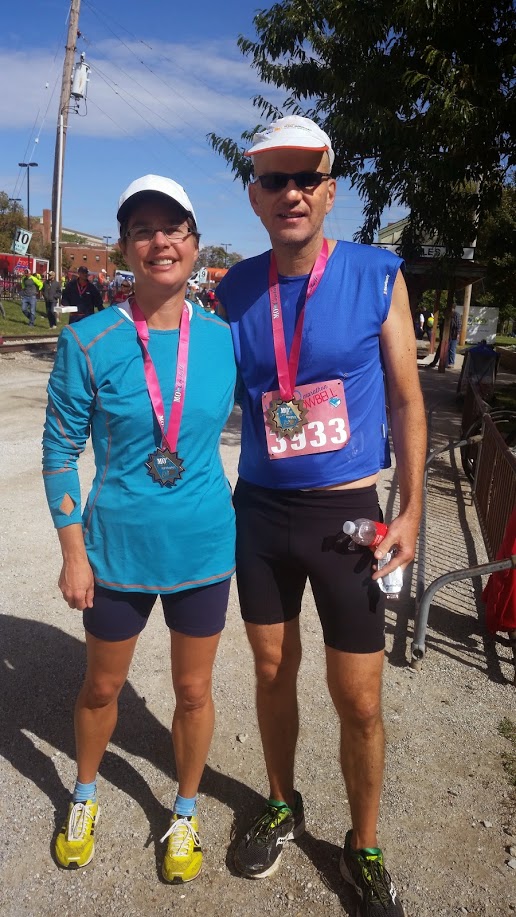 Great food and company, the unexpected funkiness of St. Charles and the great running surface on the Katy Trail made this one of my favorite marathons, coming in at number 9 in the rankings. Given that all the runs have been enjoyable, 9 is pretty good.