Marathon number 28 was the Clarence DeMar Marathon on 26 September 2010. I finished in 3:56:09, 124 out of 305 finishers, 30/65 in my age group.

Clarence DeMar won the Boston marathon 7 times, in 1911, 1922, 1923, 1924, 1927, 1928 and 1930. His fastest time was 2:18:10 in 1922. He was 41 years old at the time of his 7th victory. He taught industrial education at Keene State College, which hosts the DeMar Marathon. What fun to run in his shadow.

The marathon starts in Gilsum and finishes on the Keene State campus. The trees are just starting to turn and are beautiful, the first part of the course is quite and along a stream. Roads are not closed along the course, which means that there is some traffic. Runner supporters driving along the course with their target runner are particularly irritating. On the whole however, it is good that the roads are not closed since the the disruption to the town is not profound. Here I am at the start: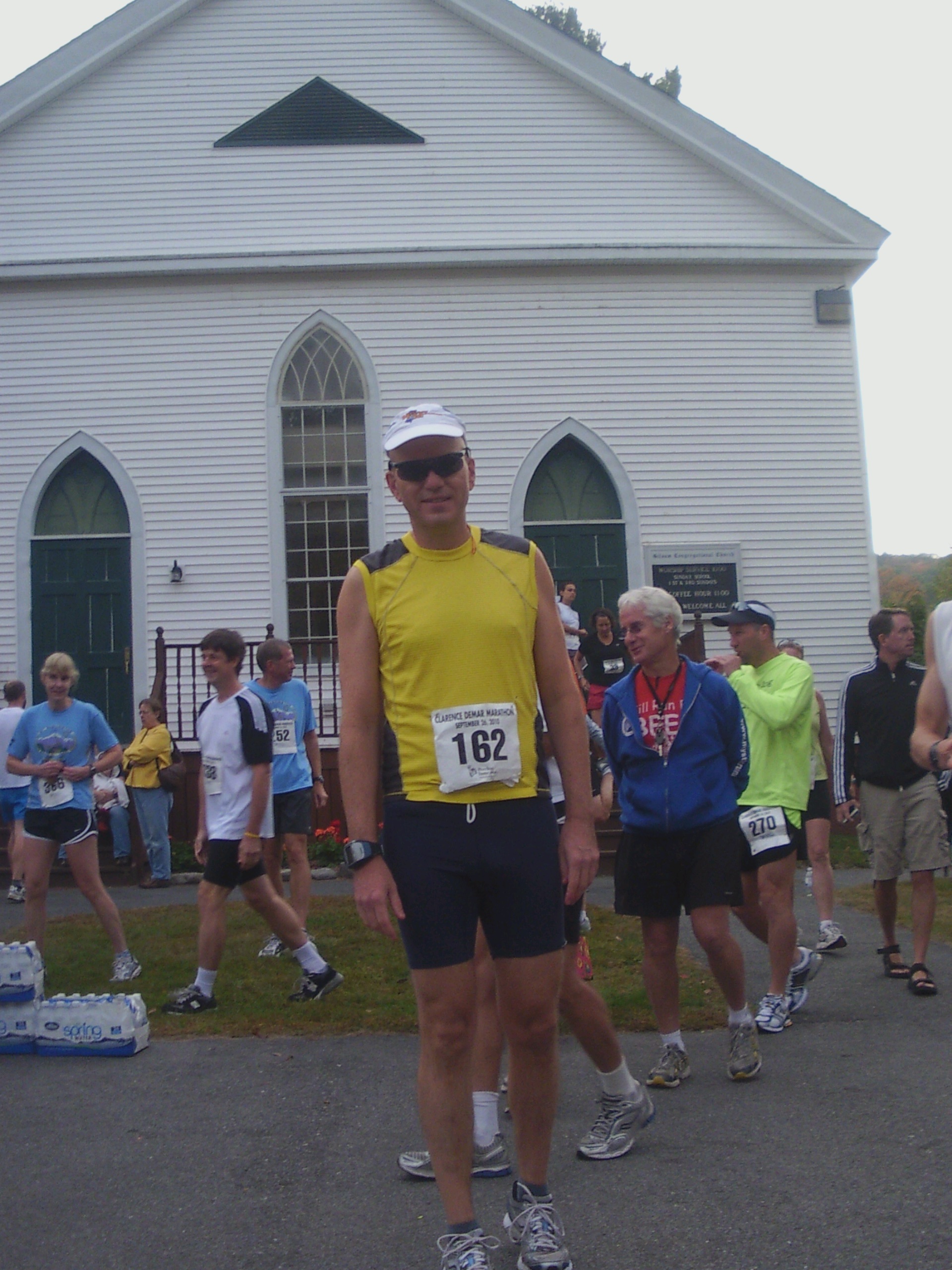 After missing a Spring 2010 marathon while recovering from a Born to Run injury, I had a great time in number 27 and was feeling that I could fit 3-4 marathons in each year without otherwise seriously disrupting pursuit of happiness from diverse angles. I thought that the relatively slow time in 27 was due to its being on a trail (which is partly true but the fact that the trail led to a reasonable pace may have been useful). Coming into 28, I felt a bit invincible. Oops. I ran the first half in about 1:43 and absolutely bombed the second half. I haven't collapsed this bad since number 7, where I at least had the excuse of hot weather. This run was in the undertrained style of numbers 1 and 5.

It turns out that, even after years of doing this, training is important. My goal was to make this run with minimal disruption and maximal efficiency. I flew to Manchester late Saturday, getting to bed at 11 at a hotel near the airport. I got up at 4 am to drive to Keene. As a measure of unpreparedness, I hadn't used my Garmin 205 in a couple of weeks and it turned out to be non-functional. All I know about timing comes from glancing at my cell phone. I was under 8 minute miles for the first 3. I had dreams of breaking 3:30, which is not a stretch based on historical data, but which apparently requires some preparation. I've been rowing on Sunday rather than taking long runs. I fell apart at 16 miles.

I got to 20 miles with 1:15 to go for the 4 hour mark. It was awfully tempting to walk the rest of the run out. So far, except for the crazy experience in Vermont, all of these runs have been completed in less than 4 hours. No big deal, won't last to the end of the project, but it could have ended today. In deciding not to end it, I ran 10 miles in a bit of agony. Running the second half at 10-12 minute miles was the hardest thing that I have done in years. Here I am at the finish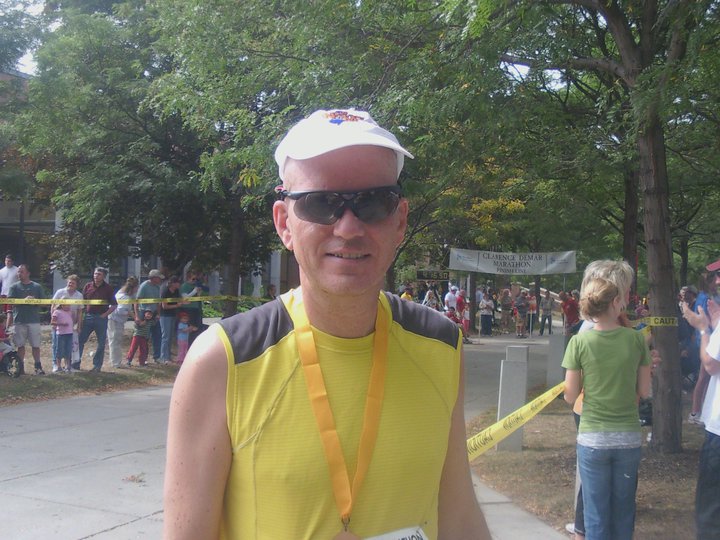 I had terrible cramps at the end, my left foot became a claw and swarms of locust flew from side to side in my calves. Here is video of the calves on their own as I sat on the grass:
This run draws a pretty serious crowd from all over. I sat next to George Rose, an afficianado of baseball, on the bus to the start and spent time chatting with the Wendel family while waiting for the race to begin. Jonathan Wendel is a biology professor at Iowa State. Kathleen Wendel beat me by 5 minutes to capture first in her age group.

My original plan was to drive back to Manchester after the race, but I decided instead to spend a day visiting MIT. It turned out to be a good thing that I changed, I would have struggled to make it to Manchester in time in my late and dimished state.