Marathon number 25 was the Baltimore marathon on 10 October 2009.
As indicated below, I finished in 3:33:10. The GPS is here. The only other Brady in the race was Ann from Mebane, NC. Although Mebane is just a half hour from Durham, I do not know Ann. I beat her by 1:15, meaning that I was already back at the hotel and out of the shower.I finished 8th of 68 from NC, 260 of 3087 overall, 8 of 71 named David.
| | | | | | | | | | | | | | |
| --- | --- | --- | --- | --- | --- | --- | --- | --- | --- | --- | --- | --- | --- |
| Bib | | | | State | Div | Age | Sex | ChipTime | ClockTime | Overall | SexPl | DivPl | AgeGrade |
| 433 | DAVID | BRADY | DURHAM | NC | Males 45-49 | 48 | M | 3:33:10 | 3:33:37 | 260 | 217 | 21 | 64.3% |
Of course, all this time data is absurd and silly, I was just there to enjoy the run. And I did enjoy it.
My world seems transformed since my last run in May. Rachael and I are empty nesters. Cancer took a very good friend from this world last month. This leads me to wonder about the point of continuing my 25 year running project, wonder what the point of the project is. Et cetera. And yet what else is there to do but continue? This project, silly as it is, defines the trajectory of my life. I may not reach the 50 state goal, but I have to do what I can in this world while I live.
Of course, there is no prize for finishing early (or at all). Marathon 25 comes 11 years after the start of the project. I will pass the halfway mark in my next run, unless more states are added in the next decade. It's weird to have been a runner for so long, I am not the person that I was for most of my life, but I have been who I am for a while.
I have been to Baltimore many times, but have never strayed beyond the Inner Harbor and the Johns Hopkins campus. It was wonderful to take a more extended tour of the city. The course circles a couple of resevoirs North and South of the Inner Harbor. The start is in Camden Yards. I was an Orioles fan as a boy. Montana is a long way from major league baseball, but Dave McNally, an Oriole starter from the 70's, is from my home town. Now he owns car dealerships there. Camden Yards is beautiful.
Baltimore seemed what one would expect Baltimore to be. Several times when I have been at conventions at the Inner Harbor I hear rumors about mugged attendees. I have run around the Inner Harbor and out to Fort McHenry, which corresponds to 3-4 miles of the marathon course. I was reasonably nervous walking to the expo, more so when I stopped at a sandwich shop and liquor store to get dinner to take back to the room. Race day was very safe, but there were lots of sirens and ambulences screaming around the course. I don't know if these were for runners, but I think they were more likely just part of the Baltimore day. Baltimore Sun columnist Peter Herman wrote an article about how the marathon went through some tough neighborhoods. Here are the opening paragraphs of Herman's article:
" On Saturday morning, thousands of people running the marathon will turn northwest onto McCulloh Street. About the time they hit the first water station, they will run right over the spot where Israeli Mason was shot and killed Sept. 13. At that point, they will be within three blocks of where three other killings occurred this year.

As they continue on the route, they will pass within a block of 13 other spots where people have been fatally shot, stabbed or beaten since January, including eight on the city's east side.

Along McCulloh and on three streets through a dangerous stretch of East Baltimore, police have recorded 12 robberies, 13 assaults, 28 burglaries and 26 car break-ins from Aug. 1 through Sept. 26, the maximum time span that can be searched on the Baltimore Police Department's Web site.

Runners will pass one block south of where a dozen people were shot in July at a cookout on Ashland Avenue honoring a slain gang member. "
It did turn out that Alonzo Key, 26, was shot and killed near his home a block from the marathon route on race day afternoon.
It also turned out that someone closer to my own experience passed away. A recent East Chapel Hill High and Princeton chemistry graduate and current MIT graduate student from Wilmington, NC collapsed at 11:20 am at mile 25 and died at the hospital at 1:11. He must have been a minute or two behind me, I probably passed him shortly before he collapsed. He won an award for solar energy research while at Princeton. What a crazy year this has been.
And we left behind worry about mundane things. The race tied up traffic something terrible. Quite a few cars seemed bound for a 2 hour traffic jam. I felt bad for the cabbies, I saw one being paid off by a customer choosing to hoof it. Tough to sit in traffic not making money I imagine.
Baltimore seems amazing parochial given its central position on the Eastern seaboard. I chatted a bit with a runner around mile 6. Normally I don't talk much, but this guy seemed desparate for human interaction. He kept shouting thanks to the traffic cops, who were a bit bored by it all.Then he talked to me a bit, telling me for example that we should hurry to make the next light (even though the cops were stopping traffic.) I asked him were he came from. He said that he was born in Jersey but had moved down to Maryland a few months ago. As a Montanan, I did not know that it was necessary to distinguish between Jersey and Maryland. The dots on my Marathon map seem awfully close.
He looked like a solid runner, but this was his first marathon. He told me that he dreamt of 3:10, thought 3:20 was more realistic and would be ok with 3:30. I ran with him for a while, but we were getting down to 7:30 so I told him that I was dropping back. I saw him again walking around mile 16. It's hard to be wise the first time. Of course, I don't know that I showed any wisdom in my faster runs. I just was ready and ran as fast as I could. I guess that one just grows accustomed.
I had another conversation on the train to the airport. I was sitting next to a husband and wife that had run the half. They did not look like runners, I think that they might have done it without training. When I asked how their run went they said that most of it was a walk. I was cleaned up by then, with a sports jacket on and full set of luggage for a week in California (whence I flew Saturday afternoon for the Optical Society annual meeting). They asked if I ever ran. I said that I had run the marathon that day. They were surprised, "did you fly here just for the run?" I said yes. They said," is Baltimore a famous marathon?" I said that it was reasonably famous (thinking of a column on it in the Times marathon blog) but that there were many runners that traveled state to state to run as a kind of atheltic tourism. They were amazed.
Of course, once I got to the airport there were people around still dressed for the race with "marathon maniac" stickers on their gym bags. I hate to think of sitting next to them as they fly home.
I flew up Friday night and stayed at the Hotel Monaco, on Charles Street a mile from the expo at the Raven's football stadium. The hotel was great about letting me book for only one night on marathon weekend and letting me check out at 1 pm. The availability of late checkout is always a concern for marathon tourism. Otherwise one could end up a manaic at the airport. The walk to the start only took 15 minutes. The "Baltimore Running Festival" includes the marathon, relay, half and a 5k. The marathon began at 8 and, in an unusual twist, the half began in waves at 9:45. I came to the marathon half mark, at the start line for the half, just as the half began.
There were three thousand in the marathon, 500-1000 relay teams and over 10000 in the half. The half and marathon courses are identical from mile 17 on, so one is in a crowd all that way. It was no problem, however, and great to have a lot of crowd support. The finish goes through Camden Yards, which was again beautiful.
By not starting with the half the marathon start was unusually clear. I started back with the 3:30 pace groups and got across the line in less than a minute.
I have not been able to run long for the past several months (just too much other stuff going on), so I intended to use Baltimore as a training run for a second fall marathon in December. Of course, there is no need for me to go too fast in the marathon anyway. Probably it is counterproductive to race marathons.... In any case I intended to take it easy in Baltimore. I ran pretty flat splits between 7:30 and 8:00 through mile 20, at which point I fell back to 8:30s. Although I was in a bit of pain, I could have gone harder at the end if it was important. I felt a twinge in the hamstring at mile 9, but it turned out to be fine. I had a minute or so pit stop at mile 12. I probably won't run much faster next time, I could break 3:20 but would feel it the next day (and for the next few weeks). 3:10 is not likely in the cards.
The weather was pretty good in Baltimore. 65 at the start and falling with a cold front coming in. Drizzle for the second half. Runners seemed to have a relatively hard time of it, however, I passed quite a few fallen warriors with 3:20 and 3:10 pace group signs on their back.
My plane was late on Friday night so I took a cab to get to the hotel with enough time to get to the expo before its 9 pm closing. $45. I took the light rail back to the airport on Saturday afternoon. $1.60. In contrast with the Marine Corps marathon, where the line to get on the metro at the finish was 2 hours long, getting on the light rail at Camden Yards was no problem.
I am using a Garmin gps these days rather than the my cell phone. It works better on a sail boat and in Asia. Strangely, phones have gotten bigger rather than smaller over the past couple of years. It is uncomfortable to carry a phone the size of a small netbook on the run, so I took a picture in the hotel room and left the phone there. The picture is below. Hotel Monaco is a newly refurbished boutique style place. Notice the zebra print bathrobe on the bed. The other one in the closet was a jaguar print. Both included a card encouraging guests to "discover your wild side."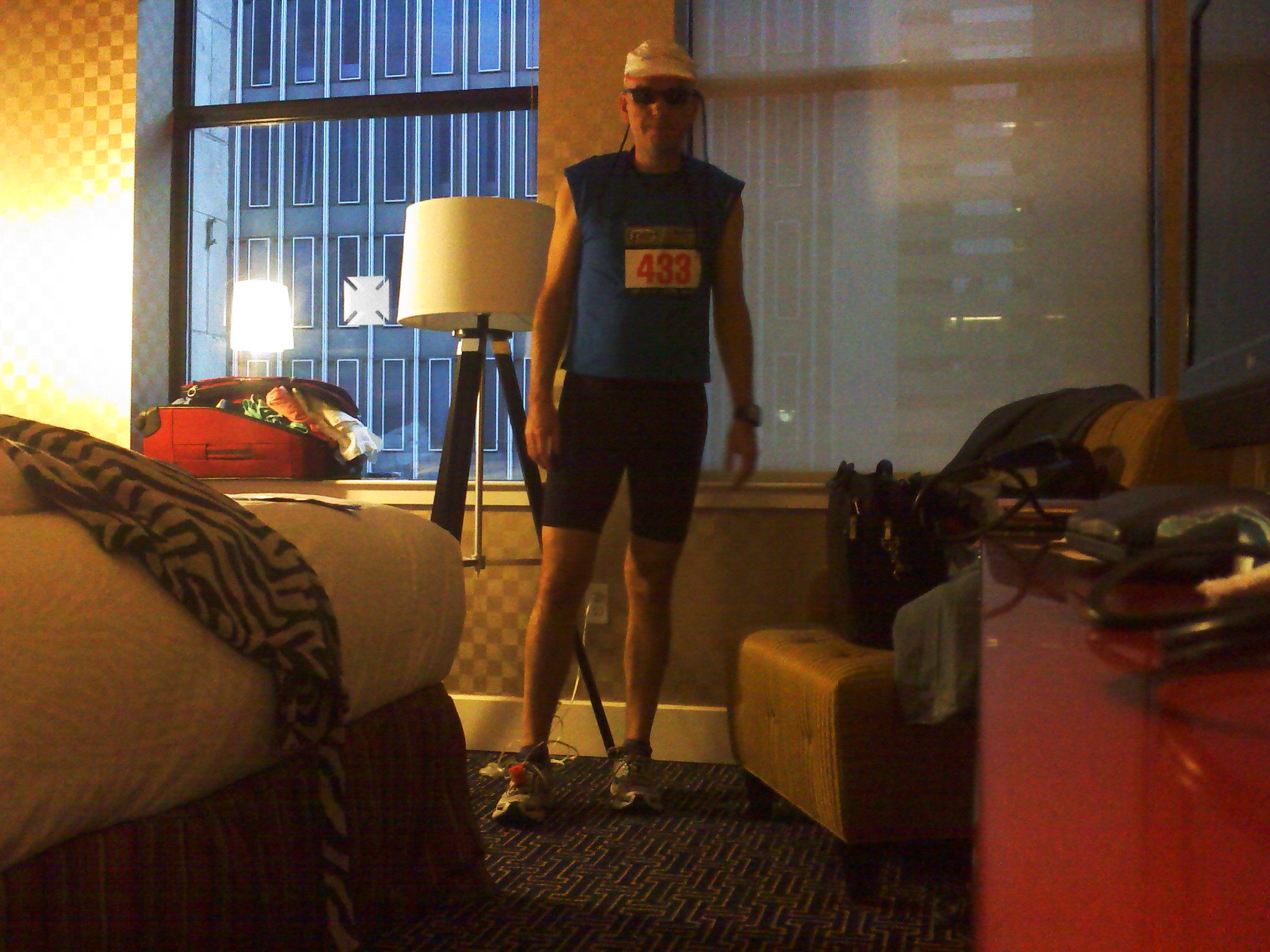 Here are some photos taken by professionals