Marathon number 20 was the Suntrust Richmond Marathon in Virginia on 10 November 2007.
This was designed to be a quick turn local marathon for me because a week earlier we burnt much of the marathon travel budget on a trip to New York, where Rachael ran in the New York City Marathon. I went as a spectator and supporter since New York is already on this list (see number 13). It was great to have a chance to watch the leaders go by mile 25, Paula Radcliffe just ahead of Gete Wami. Only at a marathon can so many people see greatness so close.
Rachael finished in 4:35. It was a cool day and she ran well. This is her in Times Square walking to the buses: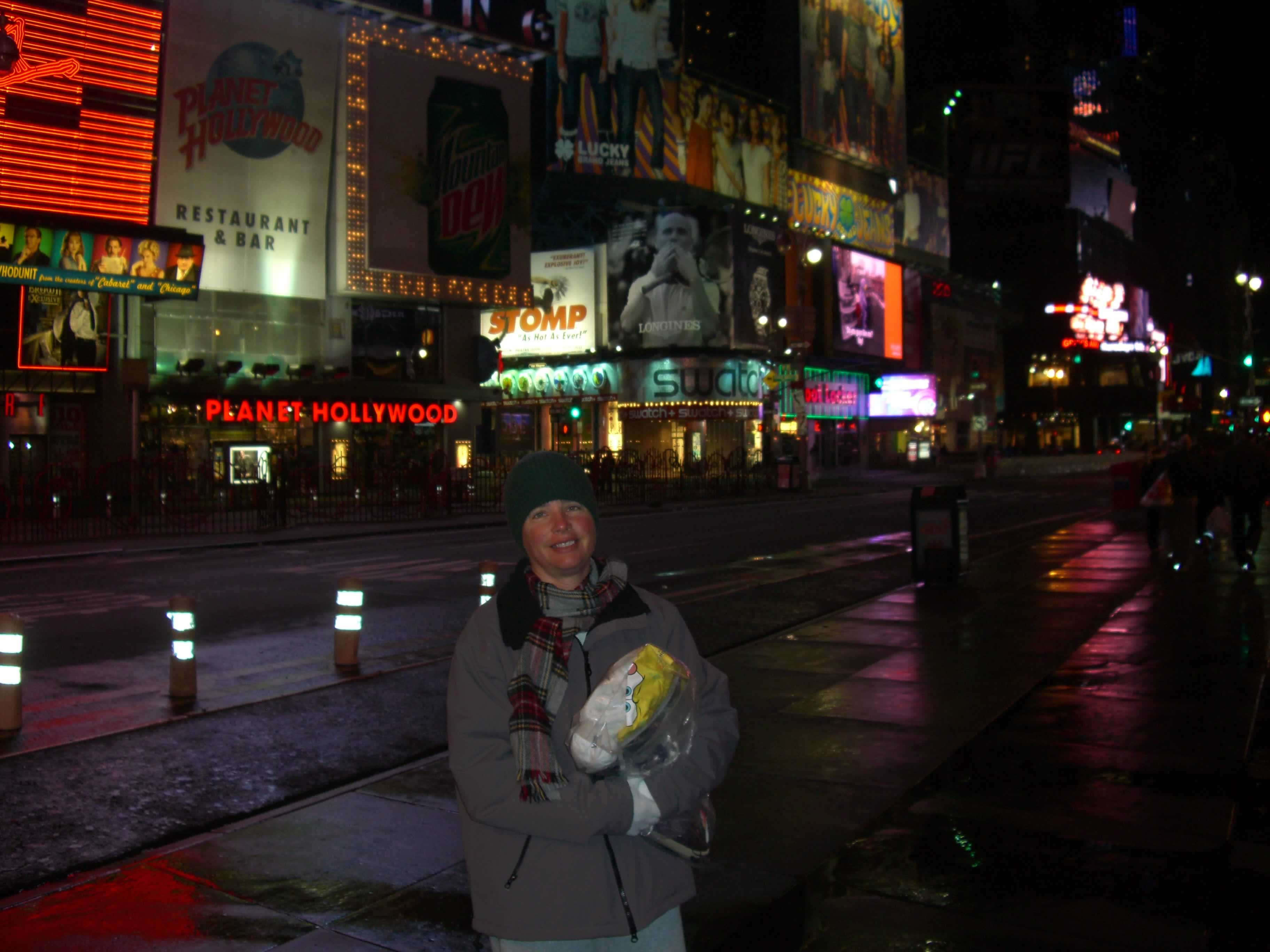 Here is a picture of her at mile 24 in Central Park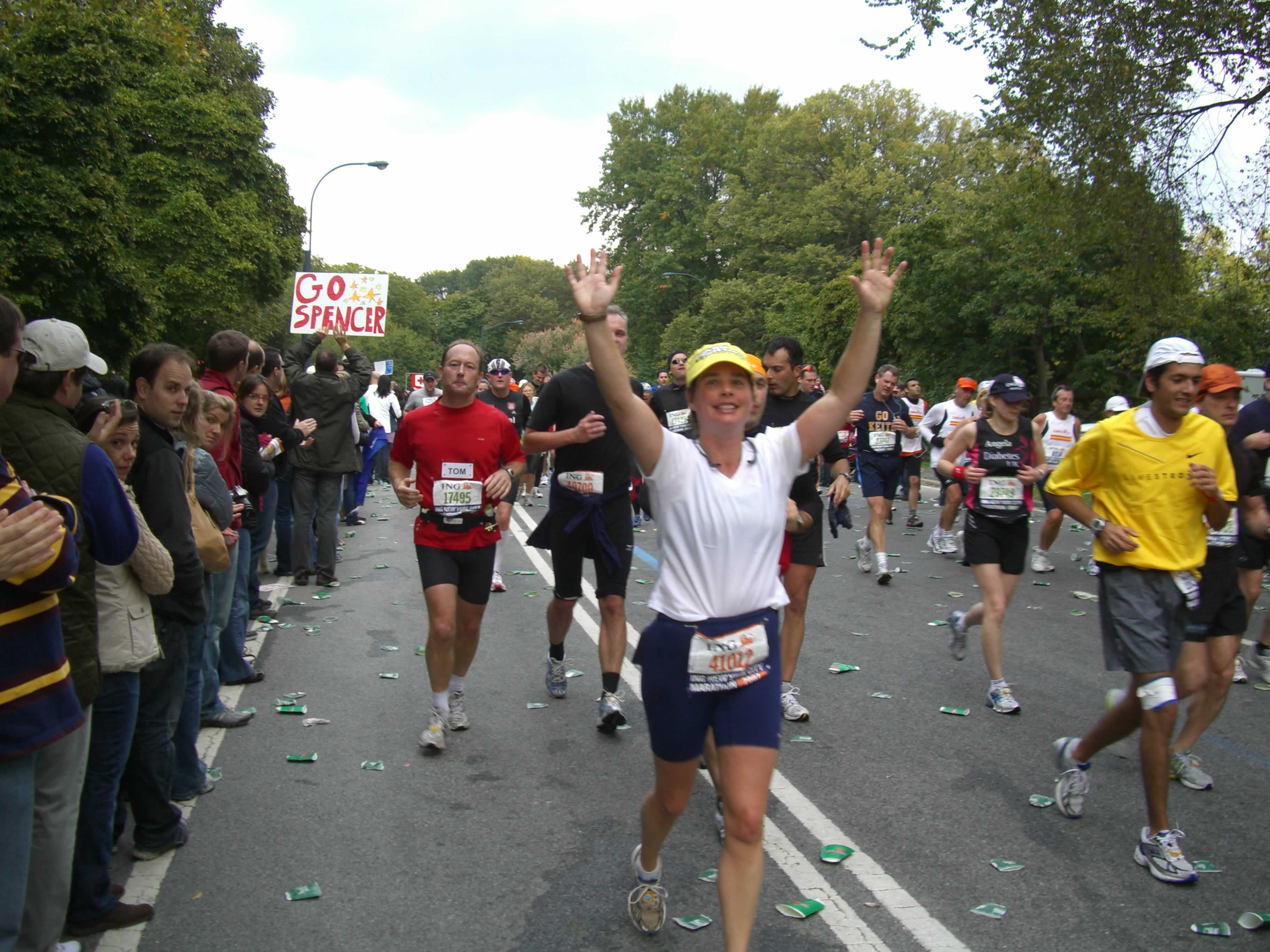 And at the finish: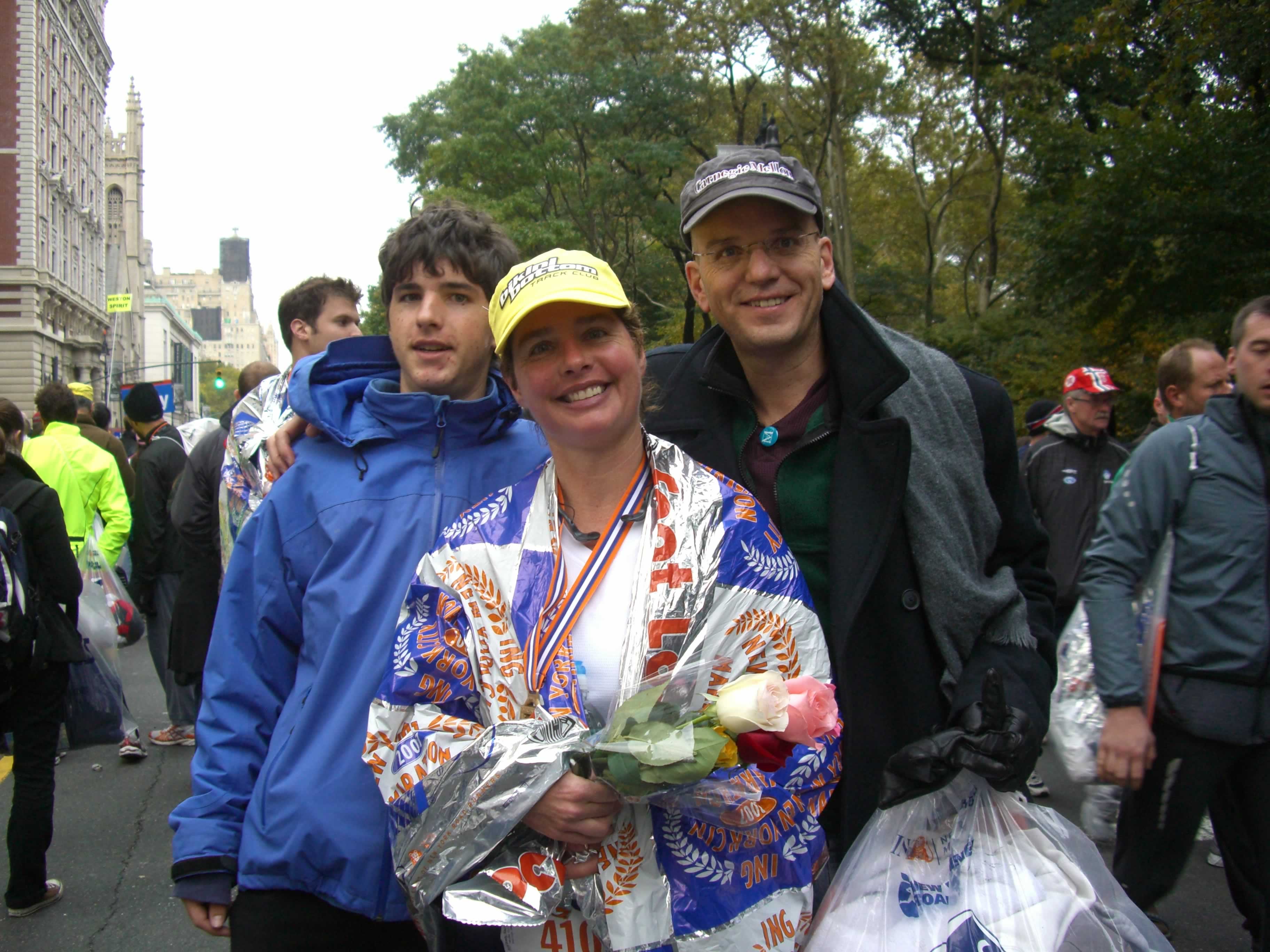 I didn't really think how close mile 24 is to the end while we waited for her, but just a week later I had a chance to explore the fact that it is over 90% done. Not that 2 miles isn't plenty far to go under normal circumstances.
We had a great New York trip, all the flights were on time, the taxi ride into and out of the city was uneventful. We went to Vietnamese on Saturday and Greek Tapas on Sunday evening, both were outstanding. We saw American Ballet Theater perform Fall River Legend on Sunday at the New York City Center. It was much better than you would expect a ballet about an axe murderer to be.
So the goal was to do Richmond fast and simple. Richmond allows marathon morning packet pickup, a wonderful, wonderful, wonderful innovation that should be highly encouraged. I got up at 3 and drove into Richmond at 5:45 am. Driving in was harder than expected because many streets were already blocked off for the marathon. I drove around for 30 minutes figuring out how to park. I stopped to ask a couple of people minding the barracades, but go no real information on the first request. On the second I learned that street parking is free in Richmond on Saturdays, so I took a spot on the street headed out of two just a half block from the finisher area.
Check in was at the Omni Richmond and went very smoothly. There was no good food or drink at the start, one had to buy coffee from the hotel, which was not very good. However, it was great to sit in the warmth of the hotel waiting for the start. Of course it was good that not all 4000 starters did this. The start was a few blocks away. I waited until 10 minutes before 8 to walk over, which meant that I was relatively warm but at the back of the pack. The start is squeezed between fences in a 3 block long corral. I was half a block behind the 5 hour pace group. Here is a picture of me at the looking back. Note that there are only a couple of rows behind me. There were thousands ahead. It took 8 minutes to get across.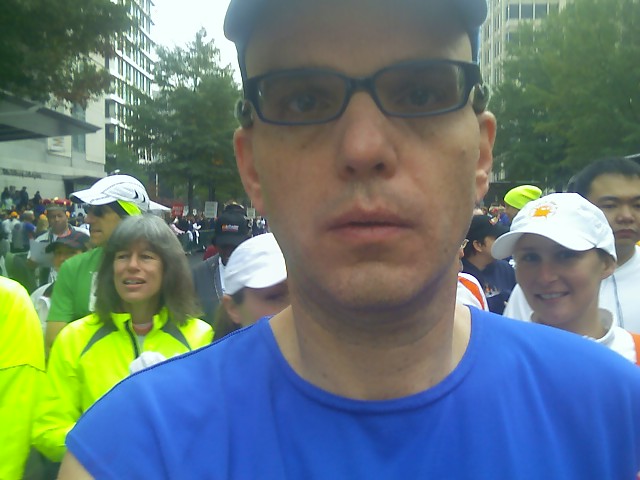 Once past the start I spent the entire race passing people, which provides a certain amount of enjoyment and is certainly better than being passed. A lot of dodging and weaving in surprisingly dense crowds for the first half took some energy, which I will use as an excuse for a so-so time on a perfect day to run.
Richmond was great. The fan support was outstanding with several points having dense corridors of cheering throngs. Monument Avenue was a blast with the Stonewall and Arthur Ashe. The turn along the river at mile 8 is spectacular. Some of the drudgery along open roads in the second half is a bit of a drag, but overall this would rate in the upper half of marathons run. On a personal enjoyment standard, the current ranking is
New York (love the crowds)
Montana (beauty)
Maine (PR)
Illinois (crowds and views)
Indiana (Notre Dame stadium at the finish)
North Carolina (lack of crowds)
Virginia (friendliest marathon in America)
Ohio (love the pig)
Utah (family favorite)
West Virginia (football finish)
Minnesota (urban beauty)
Wisconsin (beauty at the finish)
Massachusetts (running community)
Tennessee (City of New Orleans)
Missisippi (friendly run)
Delaware (too much concrete, but friendly organization)
South Carolina (hot)
Vermont (too much)
Georgia (Oh Atlanta!)
Texas (Austin is the nicest place in Texas)
I'll let you know how the ranking evolves.
I felt great in Richmond to mile 17, then felt tight hamstrings, which worried me because I didn't train very agressively for this run (I did two 16 and one 18 mile run a month ahead, but didn't keep a good schedule and didn't run as long as for some previous marathons). I ran the first half at Richmond in 1:41:52, which made me hopeful for the second half. My hamstrings loosened up and I had alot of energy between miles 20 and 21, but overall the second half was bit slower and I finished in 3:26:14, good enough for 385 overall and 38 in my age group. I didn't really decide to do a regular run until sometime around mile 6, so I can't feel too bad about my time. 3,783 people started the run. I seem to have been the only Brady. 328 people from North Carolina ran, I was 38th among them. I was 4th among the 36 finishers from Durham. Here I am at the finish: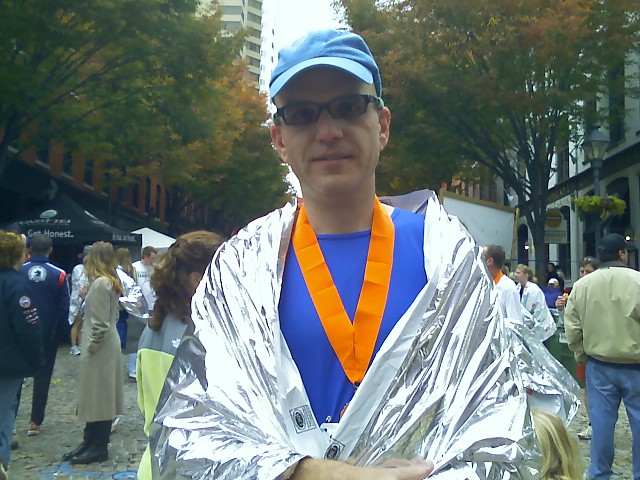 While one can always speculate strategy, I was plenty finished at the finish. After a bit of pizza and a banana I staggered over to my car and was back home by 2:15 pm. The Bones in Motion data for Richmond is here.
Along the James river about mile 9: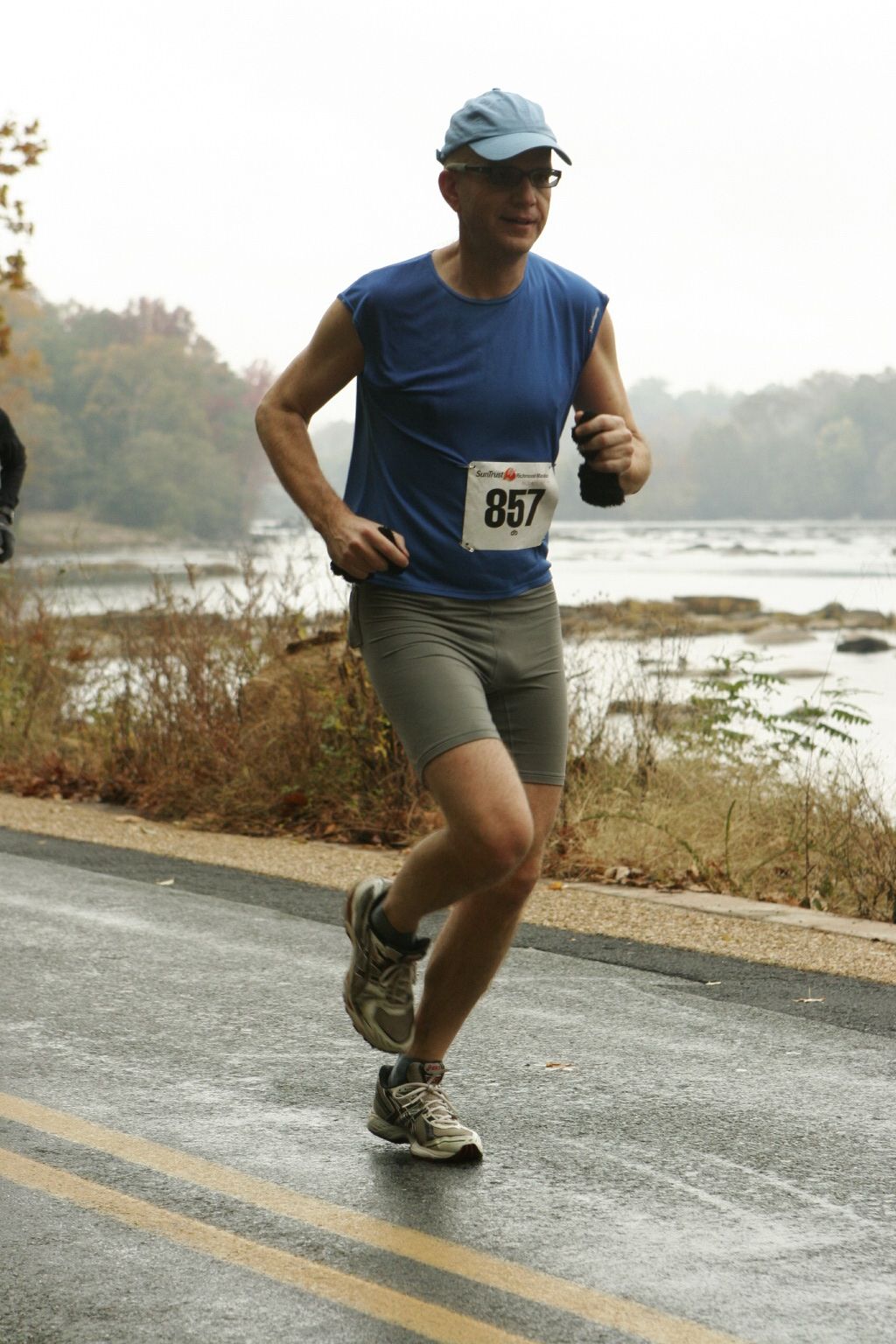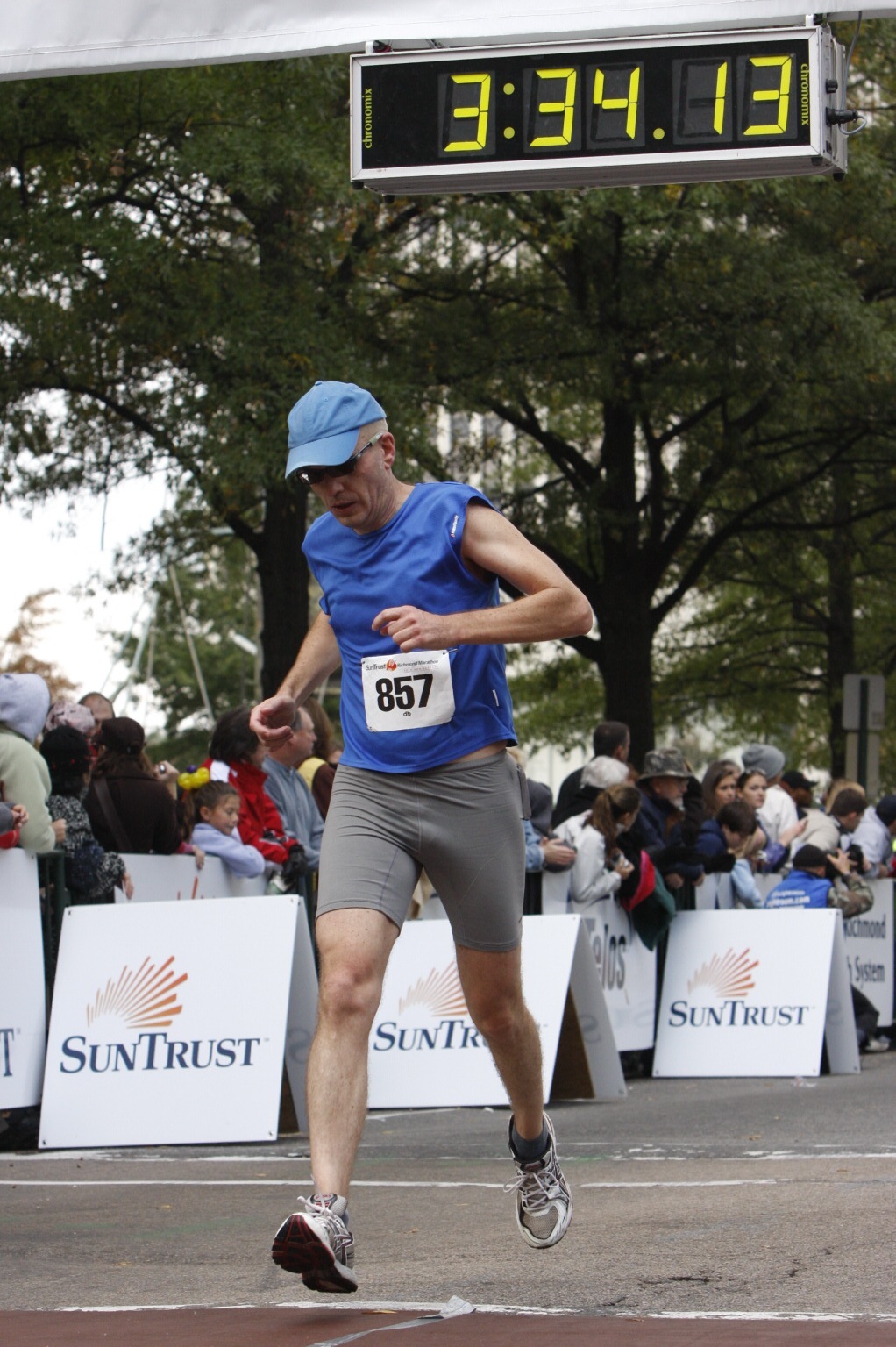 Just Florida and Alabama and then I've run the southeast.