10 was the Maine Marathon in Portland, Maine on October 6, 2002.
I have been developing a theory that I should run 4 marathons a year, two as training marathons and two as fast runs. The theory worked last spring when I ran the Ellerbe Springs Marathon. I met a friend there and had a nice four hour conversation. The Maine marathon was supposed to be a four hour training run for the Dallas Marathon in December, but I didn't meet anyone to talk to and nature took its course.
I flew to Manchester, NH and drove to Portland Saturday night. Sunday morning I drove to the University of South Maine campus, picked up my number and awaited the start. I was there about an hour early. Lot's of people were jogging to warm up. Since I was planning a training run a warm up jog seemed unnecessary, but in the end I jogged half a mile out of boredom.
The marathon was extremely well-organized and started exactly on time at 8. I started back in the pack to make sure my pace would be consistent with four hours. I crossed the line 30 seconds after the start and got to one mile in 9 minutes. I got to three miles at 25:40, which I recognize now as just as close to 27:00 as 24:00, but at the time it seemed awfully close to 24:00. Since I was running 8's anyway, I decided to speed up for a few miles and started passing lots of people. I began to wonder if I could run 3:20 and thought that I was pretty well trained, so why wait until December?
I got to the half in 1:38:30. I have run faster half's before. Traditionally I bonk between 15 and 18 miles. This time I didn't bonk. I was worried at mile 21 when my foot hurt a bit and three people passed me in the last 3 miles, but I think that they were speeding up more than I was slowing down. The last several miles I kept calculating when I could break 3:20 if I ran sucessively 8, 9 and 10 minute miles. No one was more surprised than me when I finished at 3:14 with a 3:13:33 chip time. I finished 31 out of 577 runners, 6 out of 64 in my age group. The mean finishing time was 4:13 with a deviation of 51 minutes. The finishing distribution looked like this: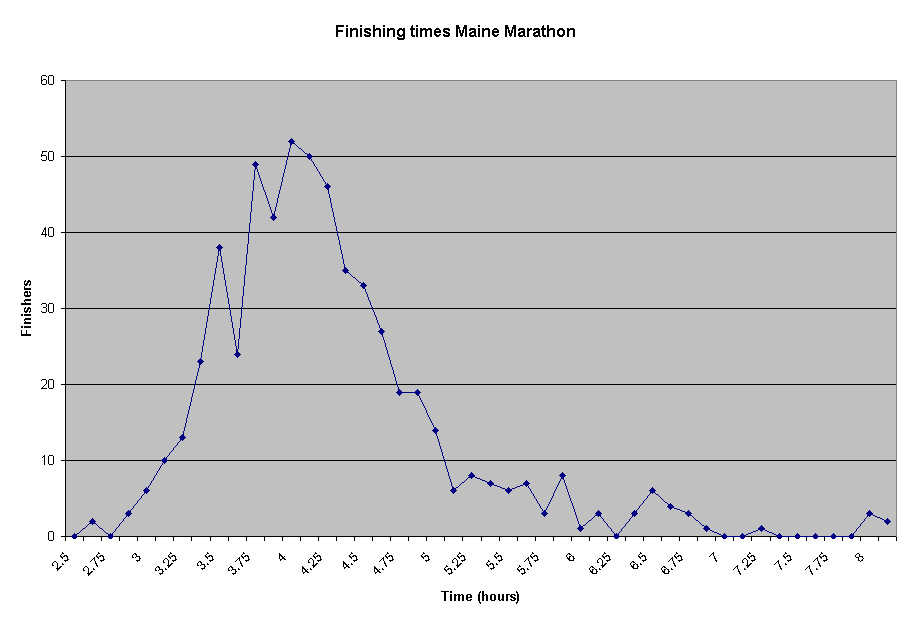 Somehow I woke up fast for this one. Strangely, all theories I have about marathon strategy seem irrelevant. The secret to success seems to be train hard for several years over long distances and race in cool weather (about 60 degrees in Portland).
I went to Newick's seafood after the race and was talked into eating two lobsters and drinking a pint of stout before heading back home.
With no collapse during the race, I feel as comfortable and am moving as well after this one as I ever have. The only down side is that with Boston qualification complete, I am not sure what my goals are now.